Koha is the first Free Software integrated library system. Koha is Free Software in terms of the Free Software Foundation and is released under the GNU General Public License. It is developed by an international community and can be used, altered and distributed without license fees. The official website is http://koha-community.org. There is also a manual and a Wiki available with hints on installation and setup of Koha.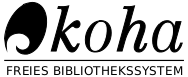 Koha is an integrated library system with a variation of modules like a mobile-accessible OPAC, cataloguing, circulation, authorities, acquisition and reports. It is written in Perl, the server needs GNU/Linux but the application is web-based and thereby system-independent, as long as a recent browser is available.
Koha is used by several thousand libraries worldwide, from private collectors and one person libraries to multi-branch academic libraries and even national libraries; from school and public libraries to company and special libraries. The system is very flexible and can be enhanced thanks to being Free and Open Source Software.
I began working with Koha end of 2009, contribute to development and translation and also offer paid support, data migration, hosting and development for Koha. If you are interested, please write to mirko AT abunchofthings.net